Low-density, highly compressible elastomeric foams are widely used in the automotive industry as energy absorbing materials. Foam padding is used in many passive safety systems, such as behind headliners for head impact protection, in door trims for pelvis and thorax protection, etc. Energy absorbing foams are also commonly used in packaging of hand-held and other electronic devices.
The low-density foam material model in Abaqus/Explicit is intended to capture the highly strain-rate sensitive behavior of these materials. The model uses a pseudo visco-hyperelastic formulation whereby the strain energy potential is constructed numerically as a function of principal stretches and a set of internal variables associated with strain rate. By default the Poisson's ratio of the material is assumed to be zero. With this assumption, the evaluation of the stress-strain response becomes uncoupled along the principal deformation directions. Optionally, nonzero Poisson effects can be specified to include coupling along the principal directions.
The model requires as input the stress-strain response of the material for both uniaxial tension and uniaxial compression tests. Poisson effects can be included by also specifying lateral strain data for each of these tests. The tests can be performed at different strain rates. For each test the strain data should be given in nominal strain values (change in length per unit of original length), and the stress data should be given in nominal stress values (force per unit of original cross-sectional area). Uniaxial tension and compression curves are specified separately. The uniaxial stress and strain data are given in absolute values (positive in both tension and compression). On the other hand, when specified, the lateral strain data must be negative in tension and positive in compression, corresponding to a positive Poisson's effect. The model does not support negative Poisson's effect. Rate-dependent behavior is specified by providing the uniaxial stress-strain curves for different values of nominal strain rates.
Both loading and unloading rate-dependent curves can be specified to better characterize the hysteretic behavior and energy absorption properties of the material during cyclic loading. Use positive values of nominal strain rates for loading curves and negative values for the unloading curves. Currently this option is available only with linear strain rate regularization (see Regularization of strain-rate-dependent data in Abaqus/Explicit). When the unloading behavior is not specified directly, the model assumes that unloading occurs along the loading curve associated with the smallest deformation rate. A representative schematic of typical rate-dependent uniaxial compression data is shown in Figure 1 with both loading and unloading curves. It is important that the specified rate-dependent stress-strain curves do not intersect. Otherwise, the material is unstable, and Abaqus issues an error message if an intersection between curves is found.
Figure 1. Rate-dependent loading/unloading stress-strain curves.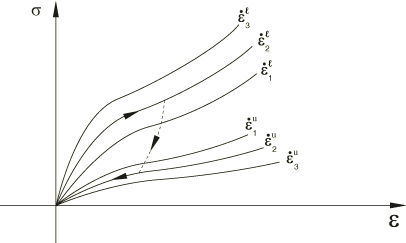 During the analysis, the stress along each principal deformation direction is evaluated by interpolating the specified loading/unloading stress-strain curves using the corresponding values of principal nominal strain and strain rate. The stress is then corrected by a coupling term if non-zero Poisson effects are included. The representative response of the model for a uniaxial compression cycle is shown in Figure 1.
Input File Usage
Use the first option to specify a low-density foam material with zero Poisson's ratio (default), or use the second option to include Poisson effects by defining lateral strains as part of the test data input:
LOW DENSITY FOAM

,

LATERAL STRAIN DATA

=

NO

 (default)


LOW DENSITY FOAM

, 

LATERAL STRAIN DATA

=

YES

 

In addition, use these two options to give the experimental stress-strain data
UNIAXIAL TEST DATA

, 

DIRECTION

=

TENSION




UNIAXIAL TEST DATA

, 

DIRECTION

=

COMPRESSION
Abaqus/CAE Usage
Property module: material editor: 
: ,