To alleviate mesh dependency during material softening, Abaqus introduces a characteristic length into the formulation, so that the constitutive law is expressed as a stress-displacement relation. The damage variable will evolve such that the stress-displacement behaves as shown in Figure 1 in each of the four failure modes. The positive slope of the stress-displacement curve prior to damage initiation corresponds to linear elastic material behavior; the negative slope after damage initiation is achieved by evolution of the respective damage variables according to the equations shown below.
Figure 1. Equivalent stress versus equivalent displacement.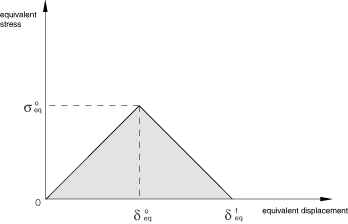 Equivalent displacement and stress for each of the four damage modes are defined as follows:
Fiber tension :
Fiber compression :
Matrix tension :
Matrix compression :
The characteristic length, , is based on the element geometry and formulation: it is a typical length of a line across an element for a first-order element; it is half of the same typical length for a second-order element. For membranes and shells it is a characteristic length in the reference surface, computed as the square root of the area. Alternatively, this characteristic length could be defined as a function of the element topology and material orientation in user subroutine VUCHARLENGTH (see Defining the characteristic element length at a material point in Abaqus/Explicit). The symbol in the equations above represents the Macaulay bracket operator, which is defined for every as .
After damage initiation (i.e., ) for the behavior shown in Figure 1, the damage variable for a particular mode is given by the following expression
where is the initial equivalent displacement at which the initiation criterion for that mode was met and is the displacement at which the material is completely damaged in this failure mode. The above relation is presented graphically in Figure 2.
Figure 2. Damage variable as a function of equivalent displacement.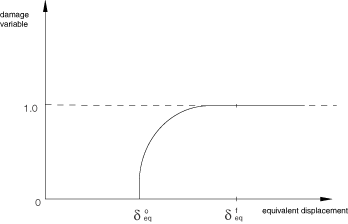 The values of for the various modes depend on the elastic stiffness and the strength parameters specified as part of the damage initiation definition (see Damage initiation for fiber-reinforced composites). For each failure mode you must specify the energy dissipated due to failure, , which corresponds to the area of the triangle OAC in Figure 3.
Figure 3. Linear damage evolution.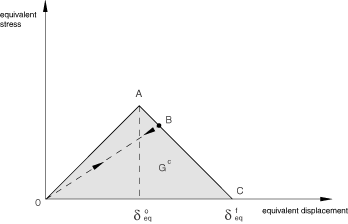 The values of for the various modes depend on the respective values.
Unloading from a partially damaged state, such as point B in Figure 3, occurs along a linear path toward the origin in the plot of equivalent stress versus equivalent displacement; this same path is followed back to point B upon reloading as shown in the figure.
Input File Usage
Use the following option to define the damage evolution law:
DAMAGE EVOLUTION

, 

TYPE

=

ENERGY

, 

SOFTENING

=

LINEAR

 , , , 
where , , , and are energies dissipated during damage for fiber tension, fiber compression, matrix tension, and matrix compression failure modes, respectively.
Abaqus/CAE Usage
Property module: material editor: MechanicalDamage for Fiber-Reinforced CompositesHashin Damage: SuboptionsDamage Evolution: Type:Energy: Softening:Linear