Next, a more rigorous treatment of the two-dimensional constant velocity joint described in MPC is presented. This derivation exemplifies some of the issues associated with the treatment of finite rotations. Uniform collapse of straight and curved pipe segments deals with a different finite rotation constraint and tackles additional complications.
Let a, b, c (see Figure 1) be the nodes making up the joint, with a the dependent node.
Figure 1. Nonlinear

MPC

example—constant velocity joint.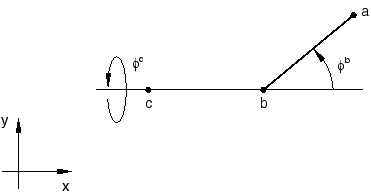 The joint is operated by prescribing an axial rotation at c and an out-of-plane rotation at b. The compounding of these two prescribed rotation fields will determine the total rotation at a. We can formally write this constraint as follows:
The constraint can be written in terms of the rotation matrices as
With the previously defined variational expressions, the constraint can be linearized as
This expression can be simplified by right-multiplying the expression by and by making use of the constraint Equation 7, which yields
which can be written in vector form as
Since
the linearized constraint is indeed identical to the one derived based on simple linear considerations in Linear constraint equations.
The linearized constraint is used for the calculation of equilibrium. It can also be used for the recovery of the dependent rotation, , as is done in Linear constraint equations. The resulting rotation will satisfy the constraint approximately (unless one of the angles or is constant, in which case the constraint is linear and the recovery is exact).
For an exact enforcement of the constraint, user subroutine MPC must define the components of the total rotation vector exactly. To do so, must be updated based on the current values of and . This is most easily accomplished with the aid of the quaternion parameters. Let and be the quaternion parameterizations associated with the finite rotation vectors and , respectively. The total compound rotation is given by the quaternion , where
according to the quaternion compound formula Equation 4. The rotation vector is extracted from the quaternion as follows:
where is the norm of the vector .
MPC shows the implementation of the linearized form of the constraint in user subroutine MPC. The implementation of the exact nonlinear constraint is shown below:
SUBROUTINE MPC(UE,A,JDOF,MDOF,N,JTYPE,X,U,UINIT,MAXDOF,LMPC,
      * KSTEP,KINC,TIME,NT,NF,TEMP,FIELD)
 C
       INCLUDE 'ABA_PARAM.INC'
 C
       DIMENSION UE(MDOF), A(MDOF,MDOF,N), JDOF(MDOF,N), X(6,N),
      * U(MAXDOF,N), UINIT(MAXDOF,N), TIME(2), TEMP(NT,N),
      * FIELD(NF,NT,N)
       PARAMETER( SMALL = 1.E-14 )
 C
       IF ( JTYPE .EQ. 1 ) THEN
         A(1,1,1) =  1.
         A(2,2,1) =  1.
         A(3,3,1) =  1.
         A(3,1,2) = -1.
         A(1,1,3) = -COS(U(6,2))
         A(2,1,3) = -SIN(U(6,2))
 C
         JDOF(1,1) = 4
         JDOF(2,1) = 5
         JDOF(3,1) = 6
         JDOF(1,2) = 6
         JDOF(1,3) = 4
 C
         CPHIB = COS(0.5*U(6,2))
         SPHIB = SIN(0.5*U(6,2))
         CPHIC = COS(0.5*U(4,3))
         SPHIC = SIN(0.5*U(4,3))
 C
         QA0 = CPHIB*CPHIC
         QAX = CPHIB*SPHIC
         QAY = SPHIB*SPHIC
         QAZ = CPHIB*SPHIC
 C
         QAMAG = SQRT( QAX*QAX + QAY*QAY + QAZ*QAZ )
         IF ( QAMAG .GT. SMALL ) THEN
           PHIA  = 2.*ATAN2( QAMAG , QA0 )
           UE(1) = PHIA*QAX/QAMAG
           UE(2) = PHIA*QAY/QAMAG
           UE(3) = PHIA*QAZ/QAMAG
         ELSE
           UE(1) = 0.
           UE(2) = 0.
           UE(3) = 0.
         END IF
       END IF
 C
       RETURN
       END