The following template shows the options used to define and activate the connector elements shown in Figure 1 and Figure 2. In the respective figures on the left is a schematic representation of a connection to be modeled; on the right is a representation of the equivalent finite element model. All options are discussed in detail in the following sections.
Figure 1. Simplified connector model of a shock absorber.

Figure 2. A pin-in-slot connection modeled with

SLOT

and

CARDAN

connection types.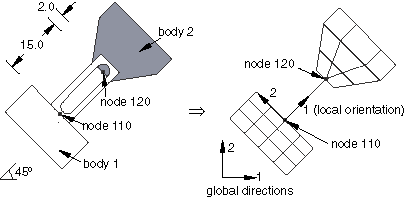 HEADING




...




ELEMENT

, 

TYPE

=

CONN3D2

, 

ELSET

=shock
101, 11, 12


ELEMENT

, 

TYPE

=

CONN3D2

, 

ELSET

=pininslot
1010, 110, 120


...




ORIENTATION

, 

NAME

=ori60
0.5, 0.866025, 0.0, -0.866025, 0.5, 0.0


ORIENTATION

, 

NAME

=ori45
0.707, 0.707, 0.0, -0.707, 0.707, 0.0


CONNECTOR SECTION

, 

ELSET

=shock, 

BEHAVIOR

=sbehavior
revolute, slot
ori60,


...




CONNECTOR BEHAVIOR

, 

NAME

=sbehavior


CONNECTOR DAMPING

, 

COMPONENT

=1
1500.0
*CONNECTOR FRICTION

CONNECTOR LOCK

, 

COMPONENT

=3, 

LOCK

=4
 , , -500.0, 500.0


CONNECTOR ELASTICITY

, 

COMPONENT

=4, 

NONLINEAR


-900., -0.7
   0.,  0.0
1250.,  0.7


CONNECTOR CONSTITUTIVE REFERENCE


 , , , 22.5,


CONNECTOR STOP

, 

COMPONENT

=1
7.5, 15.0


...




CONNECTOR FRICTION


0.34, 0.55,  0.0
0.34, 0.10,  0.45


FRICTION


.15 


...




CONNECTOR SECTION

, 

ELSET

=pininslot
cardan, slot
ori45,


CONNECTOR MOTION


pininslot, 4
pininslot, 5


...




STEP




...




CONNECTOR MOTION

, 

TYPE

=

VELOCITY


pininslot, 6, 0.7854


...




CONNECTOR LOAD


pininslot, 1, 1000.0


...




END STEP