The radial, circumferential, and meridional directions must be defined based on the original coordinates of each node in the node set for which the transformation is invoked. The global () coordinates of the center of the spherical system, a, and of a point on the polar axis, b, must be given as shown in Figure 3.
Figure 3. Spherical transformation.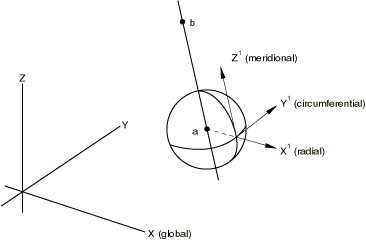 The origin of the local coordinate system is at the node of interest. The local -axis is defined by a line through the node and point a. The local -axis lies in a plane containing the polar axis (the line between points a and b) and is perpendicular to the local -axis. The local -axis forms a right-handed coordinate system with and .
A spherical coordinate system cannot be defined for a node that lies along the line joining points a and b.
Abaqus/CAE Usage
Any module: 

Type

: 

CSYS

: select any method, and click  : 

Spherical
: