The major objective in the development of the S4RS element was to obtain a convergent, stable element with the minimum number of computations. Because of the emphasis on speed, a few simplifications were made in formulating the equations for the S4RS element. Although the S4RS element performs very well in most practical applications, it has two known shortcomings:
It can perform poorly when warped, and in particular, it does not solve the twisted beam problem correctly.

It does not pass the bending patch test in the thin plate limit.
In the S4RSW element additional terms are added to the strain-displacement equations to eliminate the first shortcoming, and a shear projection is used in the calculation of the transverse shear to address the second shortcoming. The components of velocity strain in the S4RSW element are given in Belytschko et al. (1992) as
where is the pseudonormal at node I and is given by
where
The pseudonormal represents a nodal normal local to a particular element found by taking the vector cross product of the adjacent element sides.
The components of the transverse shear velocity strain are given by
where nodal rotational components and are based on a projection and a transformation. Consider three adjacent local element nodes K, I, and J as shown in Figure 2. Outward facing vectors and are constructed perpendicular to element sides and , respectively. In addition, they are tangent to the reference surface at the midsides.
Figure 2. Vector and edge definition for shear projection in the element

S4RSW

.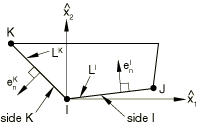 The angular velocity about outward facing vector is then given by a nodal projection
where is the rotational velocity at node I about , is the rotational velocity at node J about , and is the length of side I. Finally, the nodal rotational components and required for the transverse shear velocity strain are given by the transformation
Evaluating the resulting forms for the transverse shear at the centroidal quadrature point gives
where
and
The local nodal forces and moments are then given in terms of the section resultant forces and moments by